Upcoming Events
Ski Trail Workdays
are planned for April 30 and May 7
Meet at the Ski Hut at 1 PM
June 17, 2017
8 AM to 5 PM
Registration begins April 15, 2017
To receive a T-Shirt you must register by May 28, 2017
Registration ends June 10, 2017

July 15, 2017
Kids run @ 8 AM
5K @ 8:30 AM
August 12, 2017
8 AM to 1 PM
At the Ski Hut
---
The primary purpose of Oil Creek State Park is to tell the story of the changing landscape. Just north of the park, along Oil Creek in Titusville, Colonel Edwin Drake struck oil at a depth of 69.5 feet in August 1859. Drake's Well marks the birth of the world's commercial oil industry. The early petroleum industry's oil boom towns and important oil well sites are long gone. They have been replaced by clean trout streams and forested hillsides seen today throughout the park. Few oil wells are still active in the park, but newer gas wells are common. The events of the exciting 1860's, the time of the original oil boom, receive special emphasis in park's trails and by park personnel. The early history of the oil region is presented well by Drake Well Museum just north of the park.
Today, Oil Creek State Park features the 36 mile volunteer maintained Gerard Hiking Trail along with 4 other interpretive hiking trails, a 9.7 mile paved biking trails along Oil Creek. The park also offers two day use areas. Blood Farm has rest rooms, drinking water, picnic shelters, tables and play fields. Egbert Farm (Petroleum Centre) has fresh drinking water, restrooms, picnic shelters with additional tables, and a new playground. Both areas have parking and access to Oil Creek. Fishing is enjoyed in Oil Creek, Boughton Run, Toy Run and Jones Run. Hunting is permitted on approximately 6,250 acres of park land. Canoeing and kayaking along Oil Creek, which is classed as beginner's waters, is best from March to June.
Several shelters may be reserved for a fee. Call Oil Creek State Park at 814-676-5915 or DCNR reservations at 888-PA-PARKS (888-727-2757)
---
Two Organized Group Tenting area are available:
Wild Cat Hollow
Ski Hut Area
Try Cross-country skiing during the winter months.
Take an interactive Slide Show Tour of the park. Thanks to Keith Cubbon.
View the interactive Google map of the park and views of Oil Creek on YouTube.
A Chapter of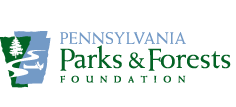 ---
---
NEW NEWSLETTER
---

Have membership questions: oilcreekfriends@gmail.com or Peg Sims (814)354-2802

---
Need a volunteer project
On most Tuesdays in the spring and fall.
On most Wednesdays
---
Community service hours available for students!
---
Membership and Support
We welcome new members and volunteers. There are many ways you can help.