About Us
Friends of Oil Creek State Park was formed to provide the volunteers of Oil Creek State Park (OCSP) additional ways to contribute to the conservation and preservation of the land and waters of the Commonwealth within the park and to encourage Oil Region residents and others to support the parks mission.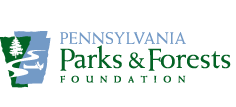 Friends of OCSP is a chapter of the Pennsylvania Parks and Forests Foundation (PPFF). PPFF is a private, non-profit organization that works to develop resources which compliment the Department of Conservation and Natural Resources (DCNR) in the areas of State Parks and Forests through the actions of people and assets.
Our Mission:
The Friends of Oil Creek State Park support the parks mission to preserve, protect and interpret its natural environment and cultural heritage while providing recreational and educational opportunities for residents and visitors to the Oil Region.
Oil Creek State Park
The park is located in northwestern Pennsylvania between Titusville to the north, and Oil City four miles to the south. The main entrance to the park is off of PA 8, one mile north of the Borough of Rouseville. Map and info at Visitpa.com and Local Weather
The first commercial oil well was drilled in 1859 at a site near the northern end of Oil Creek State Park. The park tells the story of the early oil industry with displays of early boomtowns and preserved oil leases. Oil Creek carves a steep sided valley through the center of the park. Habitats from the deeply carved feeder steams to the wetlands of the flood plain to the steep hillsides provide opportunities for a variety of recreational activities.
The primary purpose of Oil Creek State Park is to tell the story of the changing landscape. The early petroleum industry's oil boomtowns and devastated hillside vegetation are in contrast with clean trout streams and forested hillsides seen today throughout the park.
The events of the original oil boom in the 1860s receive special emphasis. For a more complete story of the early oil industry in the region visit Drake Well Museum located at the northern end of the park or our Oil Histroy page.
Use the menu at the top of the page to visit our other pages and learn more about the park, its volunteers, projects and activities.
Park Office
With the cooperation of the Bartramian Audubon Society, FOCSP volunteers built a bird and butterfly garden around the park office.
Membership and Support
We welcome new members and volunteers. There are many ways you can help.